JUST SO SO

Men

Blade Sneakers
Are you looking for outstanding and comfortable running shoes?
We also have many different styles and designs!We are sure you will find something your like in our store!

Rubber material of sole possesses high durability for prolonging the wearing time of our shoes.
Breathable mesh upper sport shoes, expand with your foot when you run and they more comfortable closely fit to help you reduce irritation.
Knit upper material make it possible that your feet free breath when you run or walk. It's soft and protective to cushion your every step.
Breathable,durable,lightweight,soft,deodorant.After you walk through the day's work with these shoes, you can keep the shoes dry and comfortable. This is a great feeling.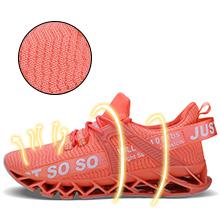 Breathable Mesh Upper
— Mesh material features lightweight and breathable
— Keep your feet dry and cool,bring the confortable feeling when you run or walk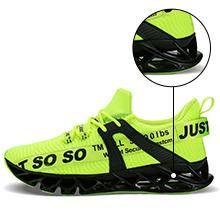 Blade Sole Design
— Providing stable support and optimal shock absorption for sports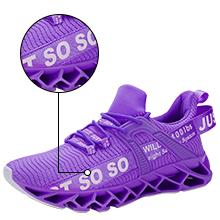 Just So So Symbol
"Just So So" Symbol make you more Stylish ,Cool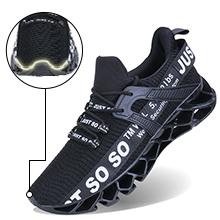 Keep Toes Safe
— Anti-kick design to protect your toes from hurt
— Breathable lining inside Comfortable and Dry lining provides the optimum cushioning performance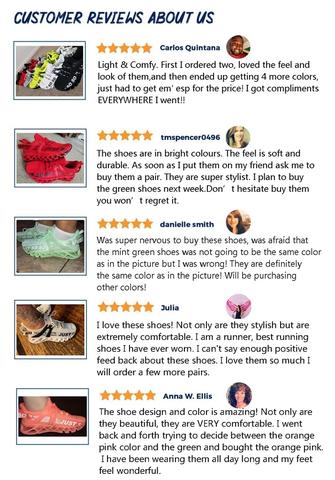 Customer Questions & Answers
Question:

Are these true to size or do i have to go up a size ??
Answer:?they are true to size. I normally wear a nine in my shoes. I ordered a nine and they fit nice and snugged. But they do stretch a little in width ( I have wide feet). They are worth Evey penny. They are comfortable!!!!
Question:How are these shoes for high arches? Is this a good running shoe?
Answer:I have plantars facititus so I have to use special inserts but they have built in arch support already so they are great for high arches. Yes, I believe they are good running shoes because the blade design takes more of the heel impact than your feet normally would.
Question:Are they slip on or tie shoe?
Answer:They do have a tie shoe lace but once they are tied to your preference, you can just slip the shoe on and off. No need to keep re-tying.
Question:I walk 10 plus miles a day on concrete for my job. Would these hold up to that kind of stress?
Answer:I¡¯m a nurse and I¡¯m n them for 12 hrs a day I bought my first pair in January and they lasted this long