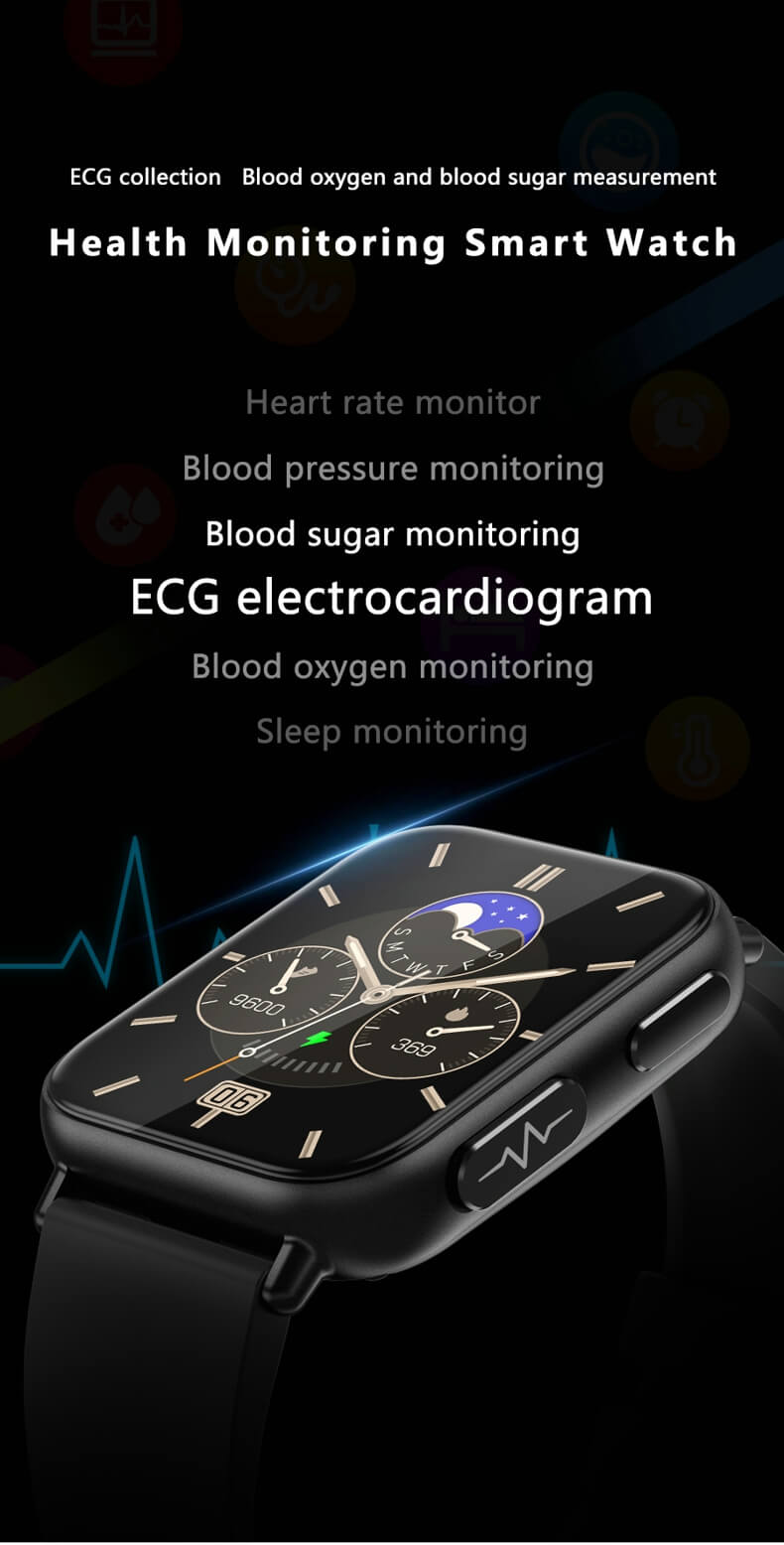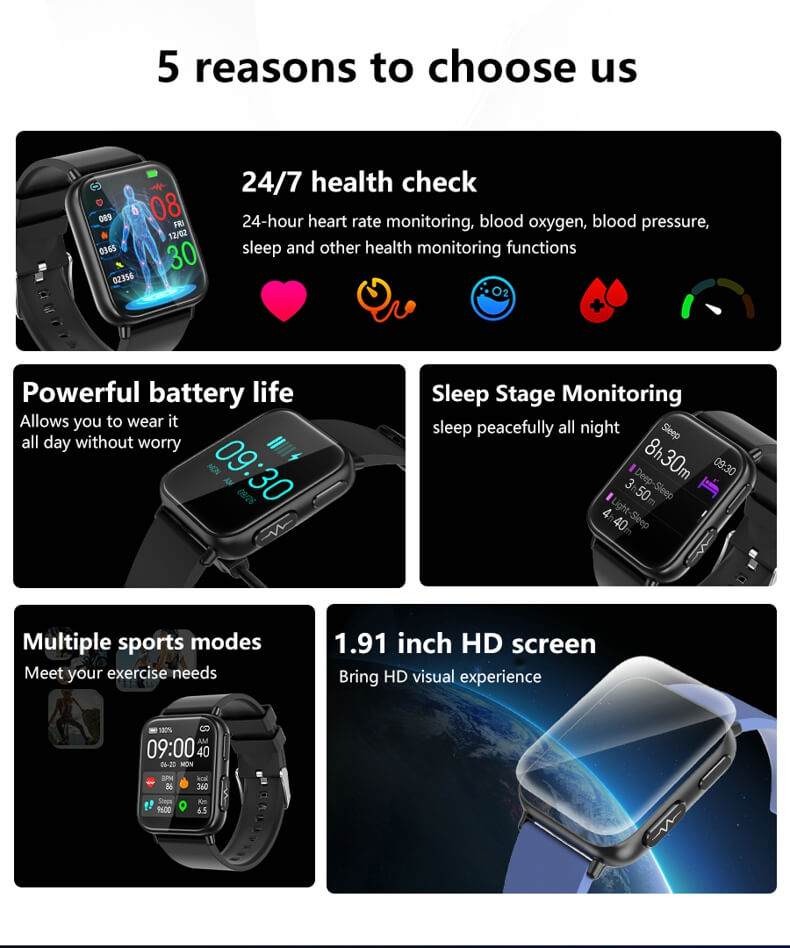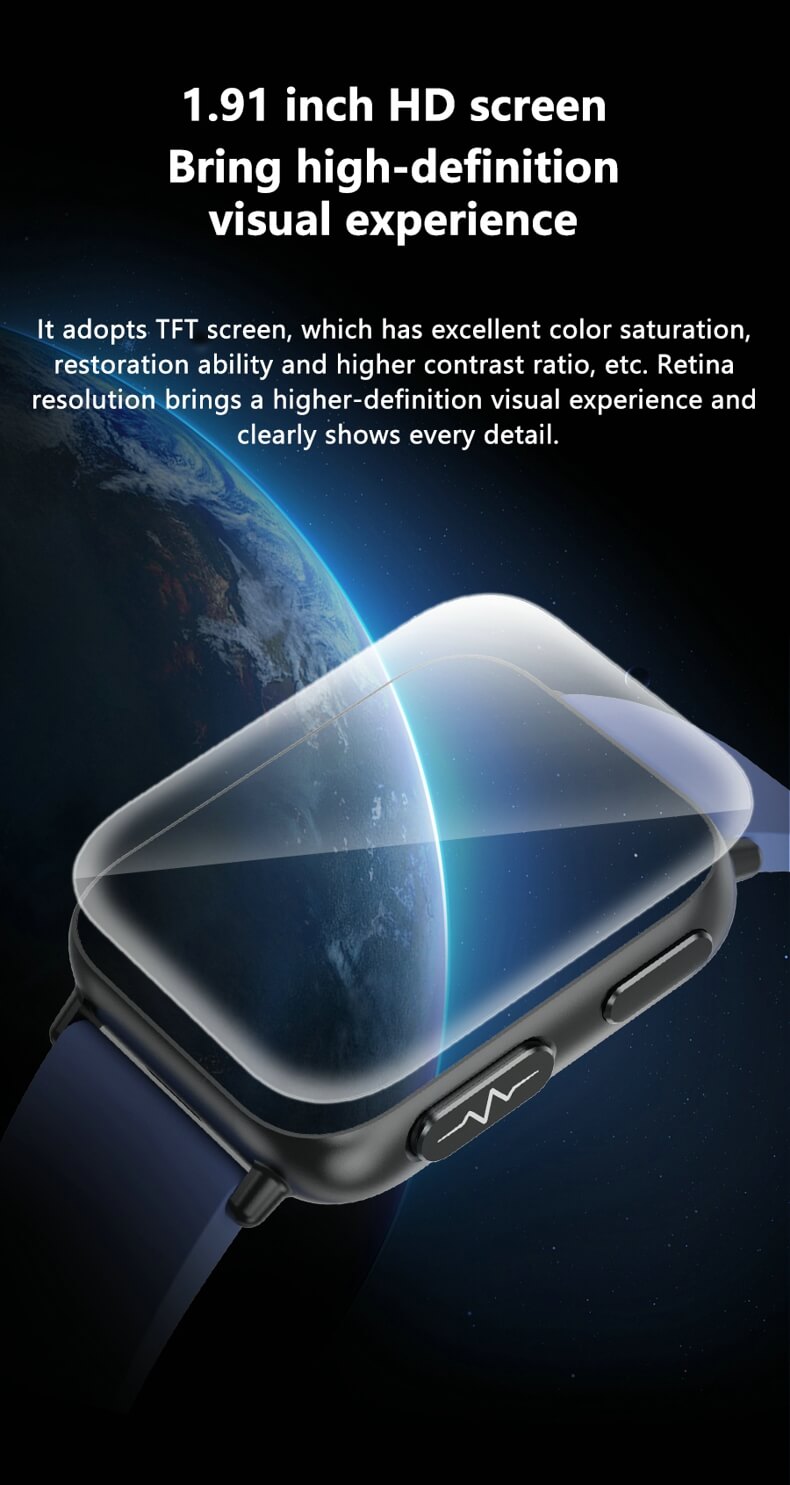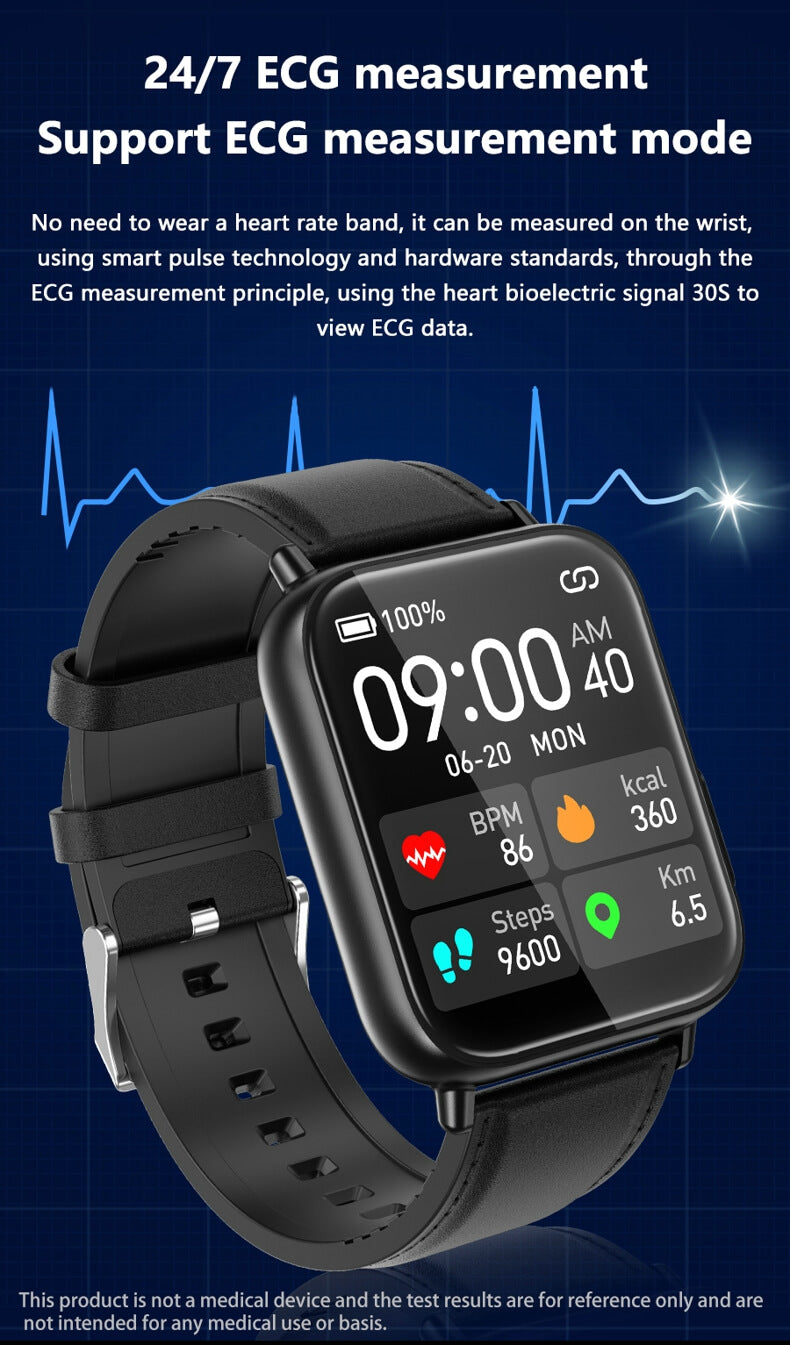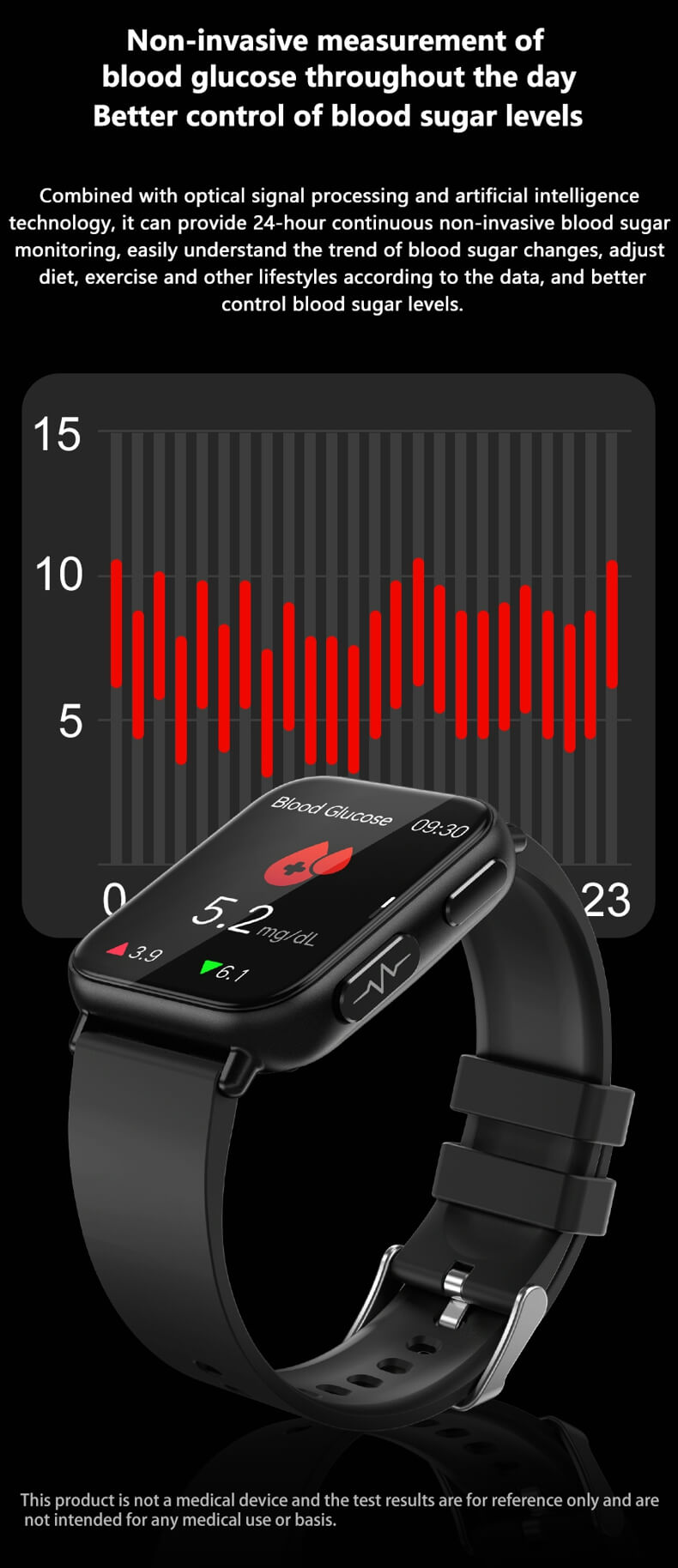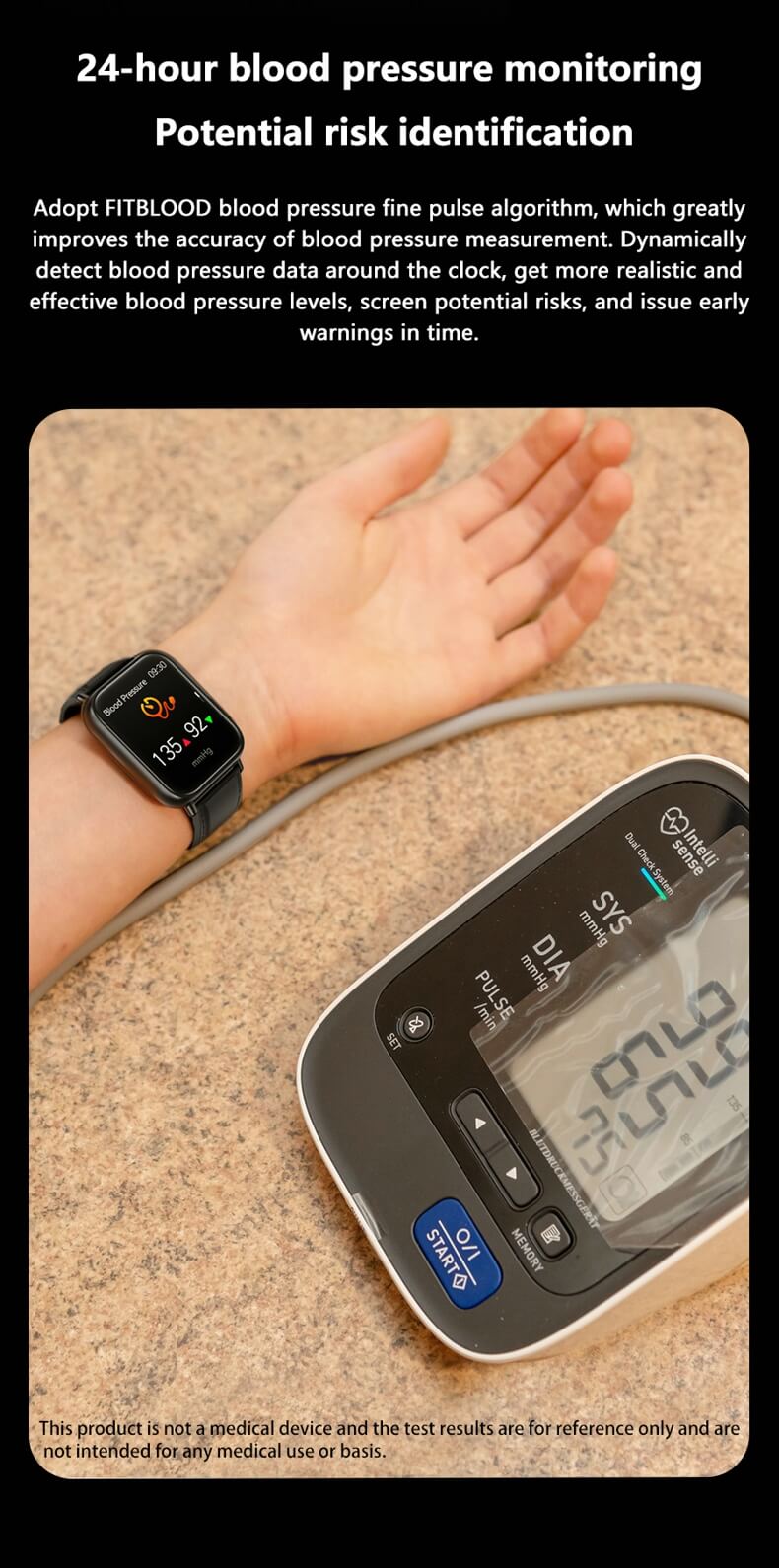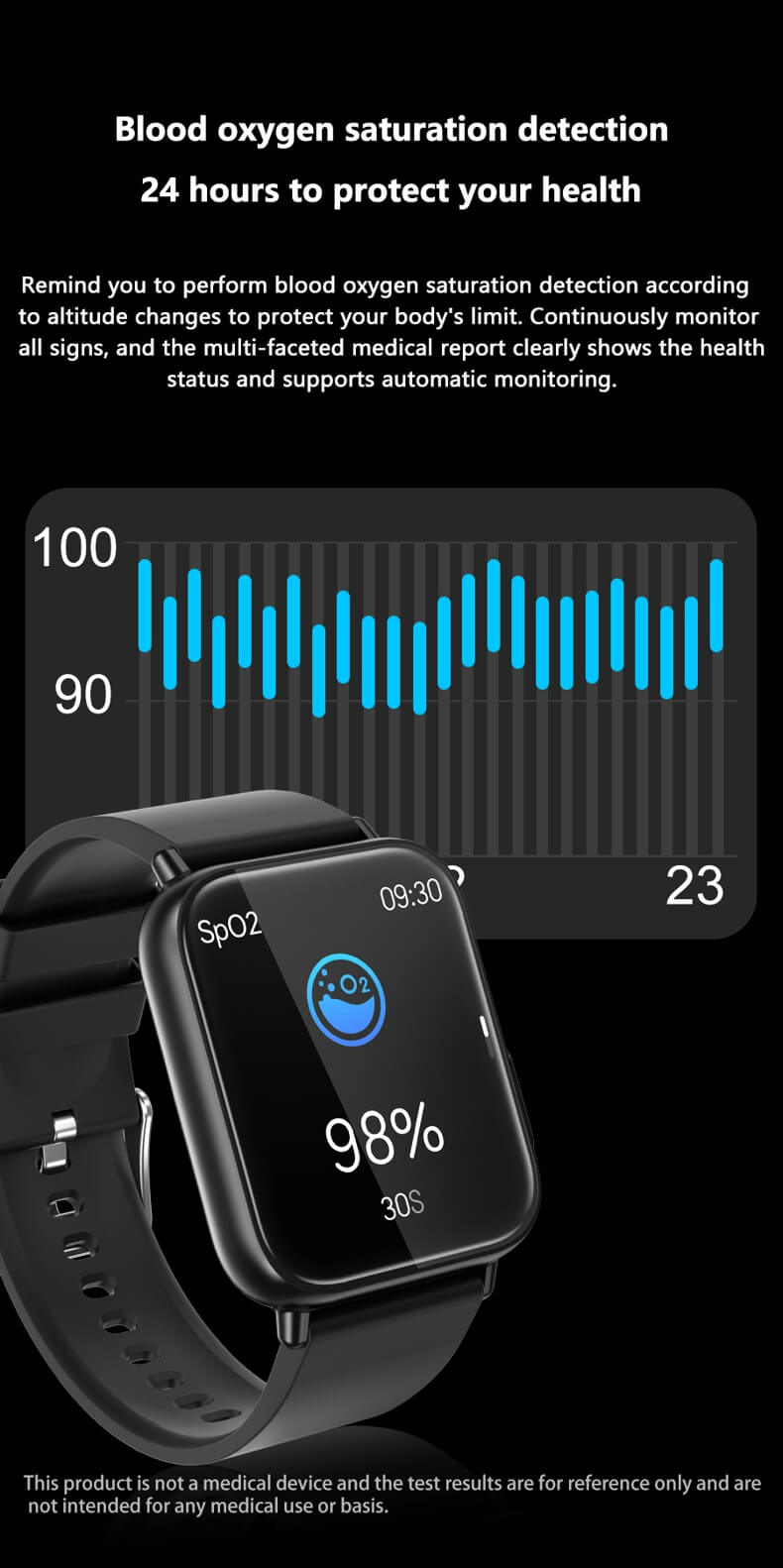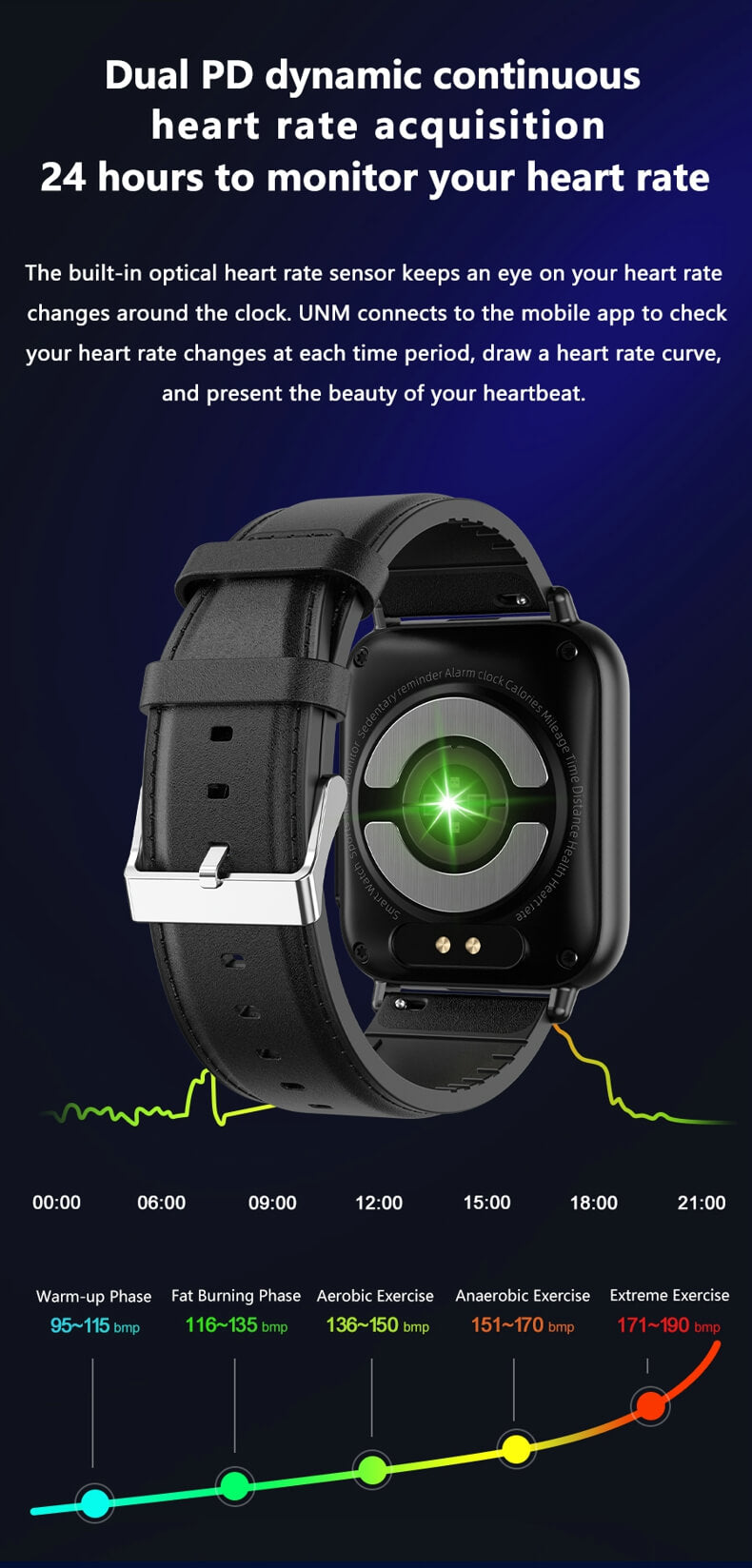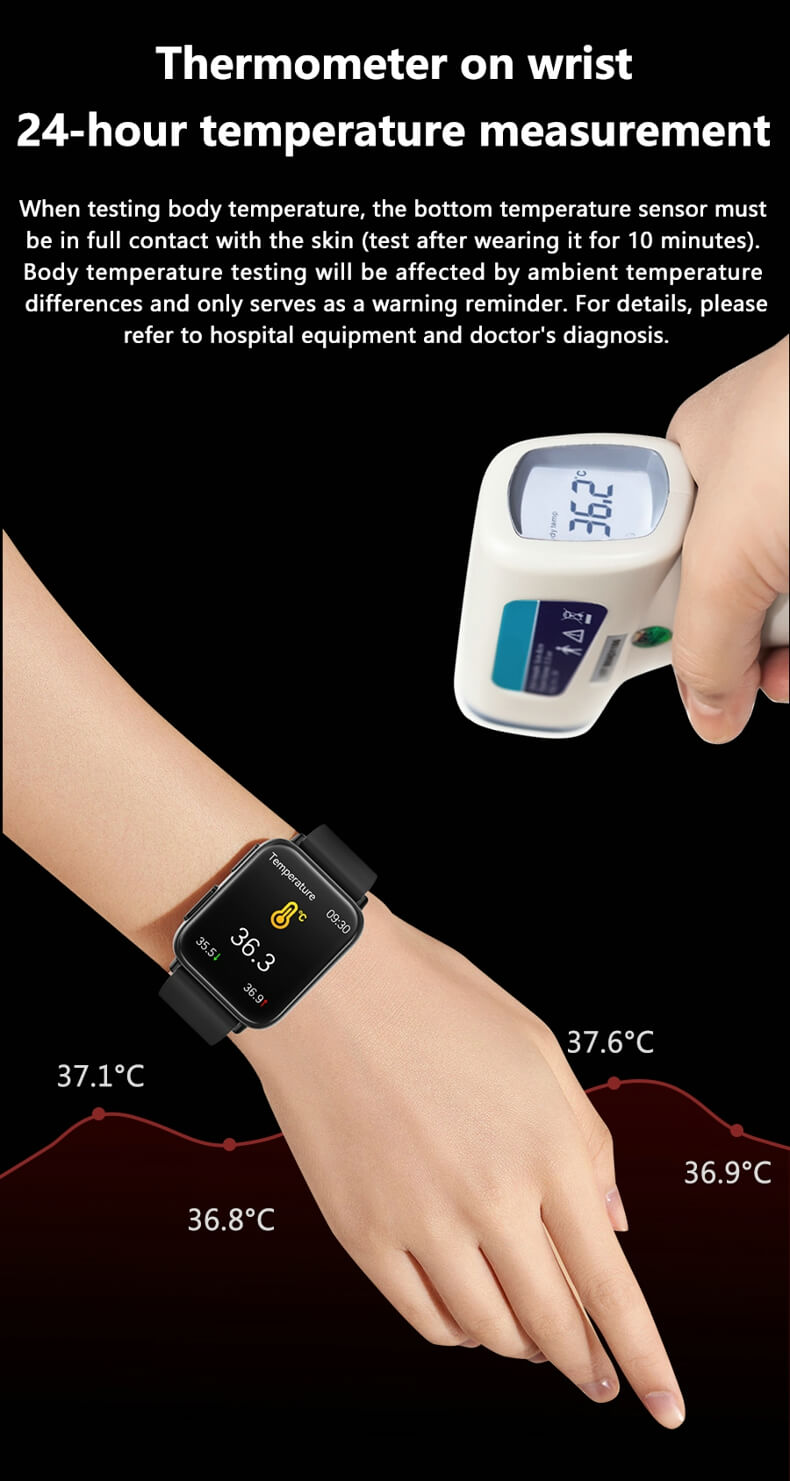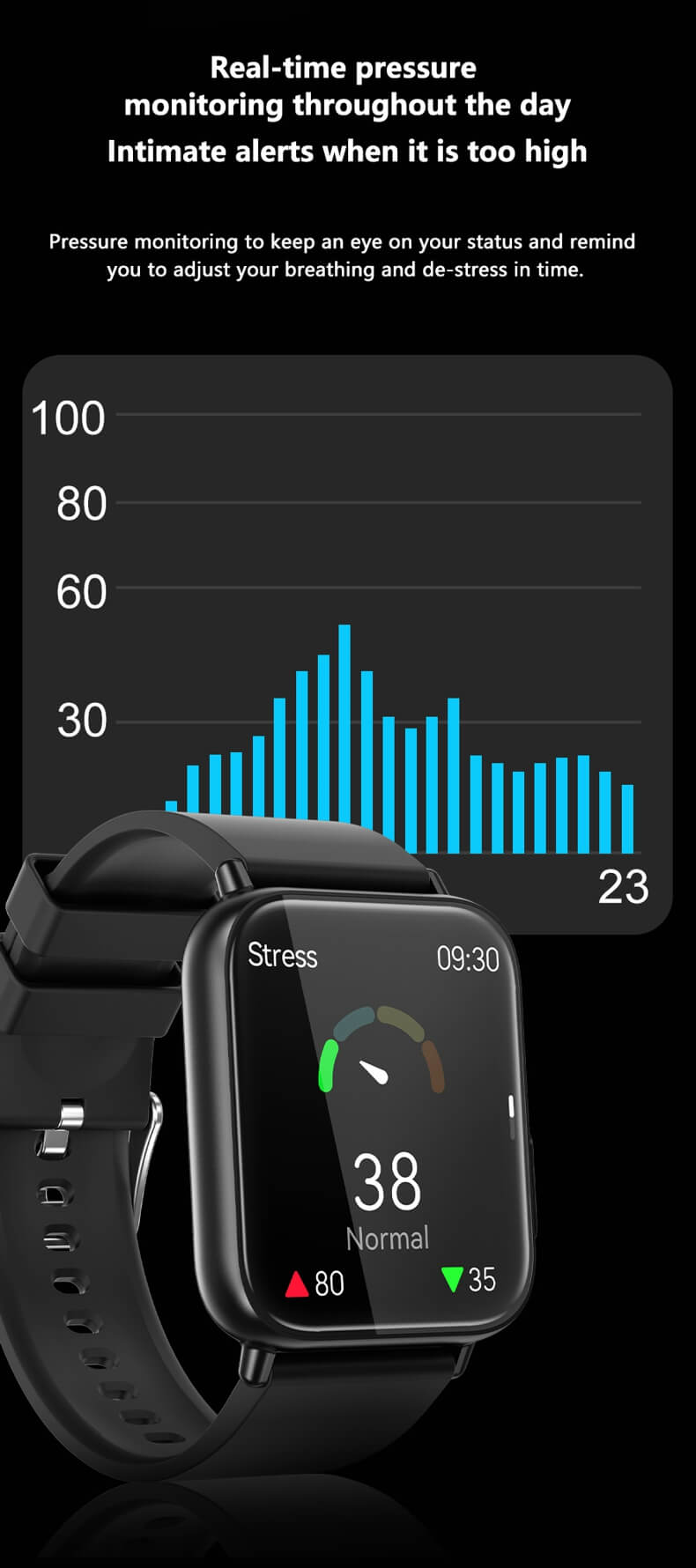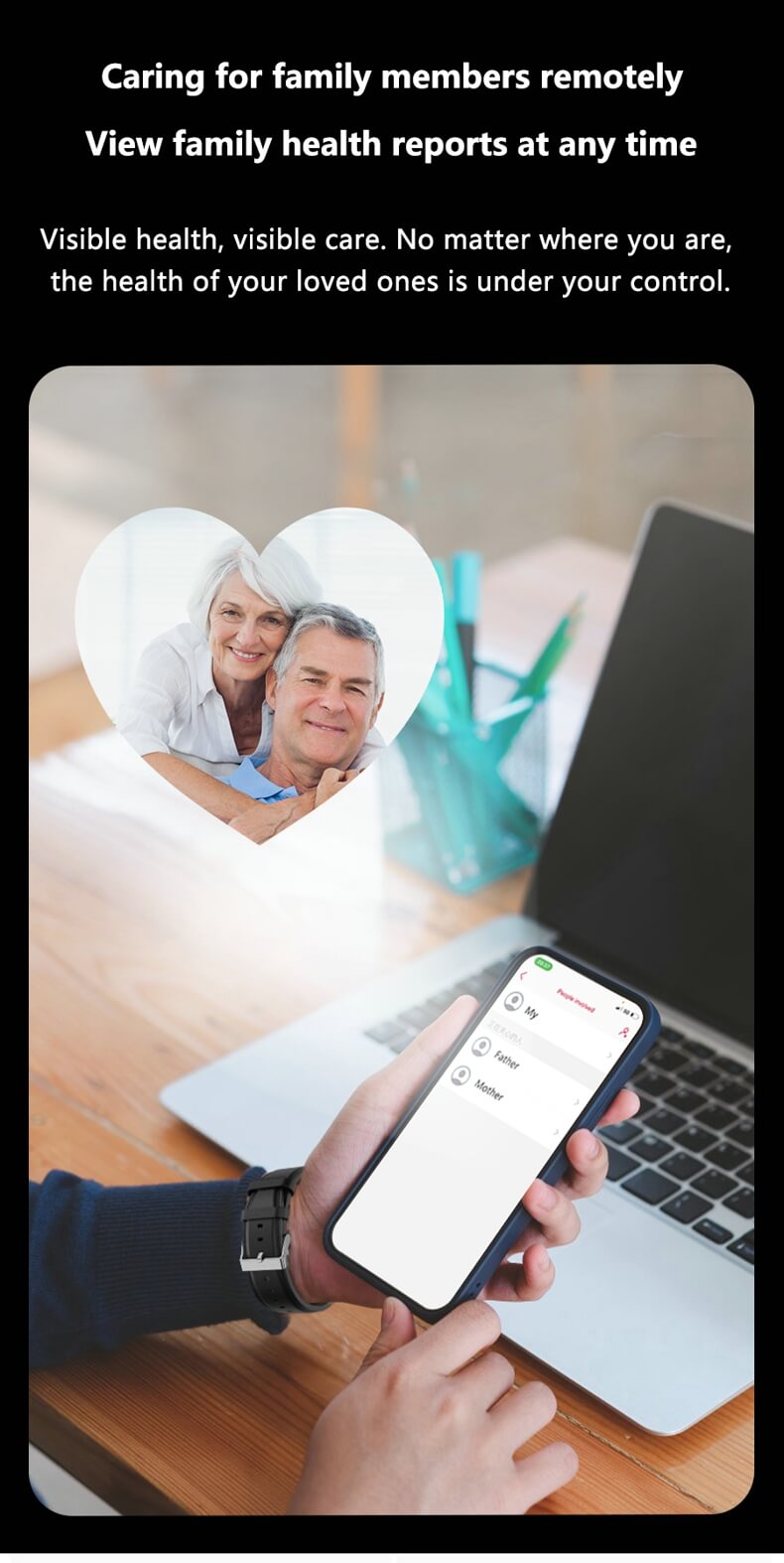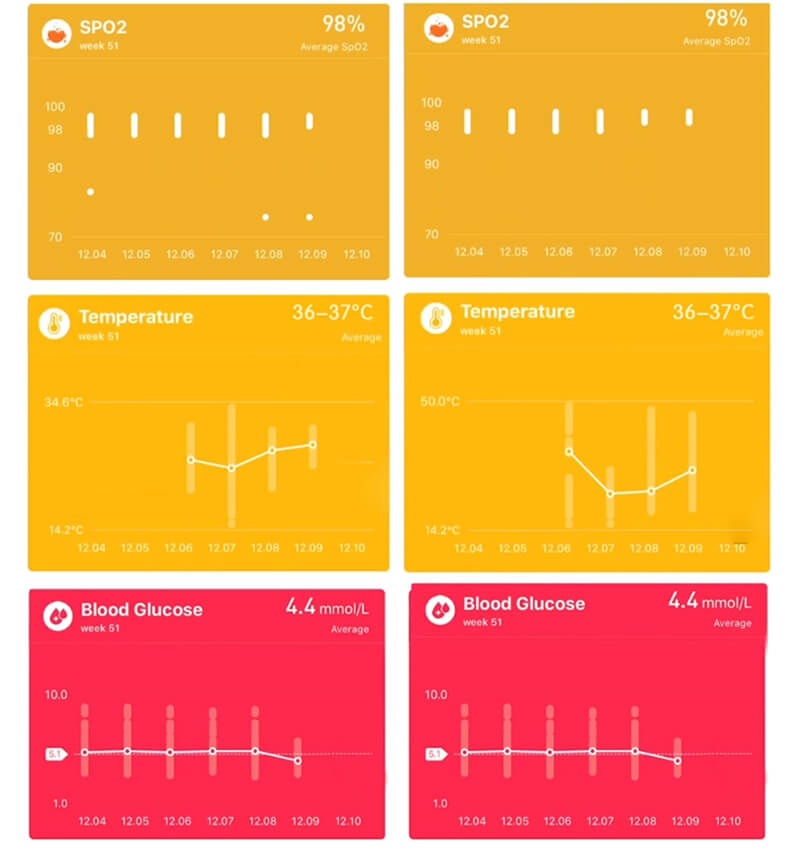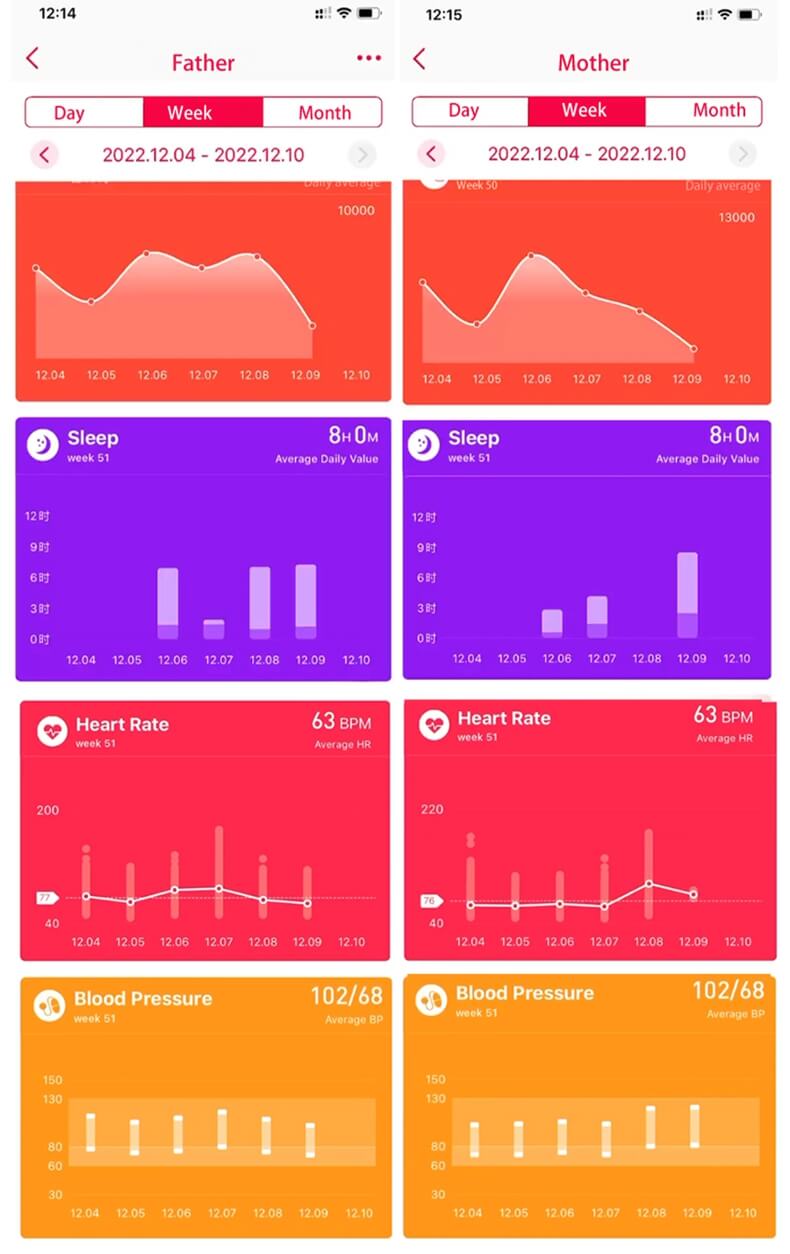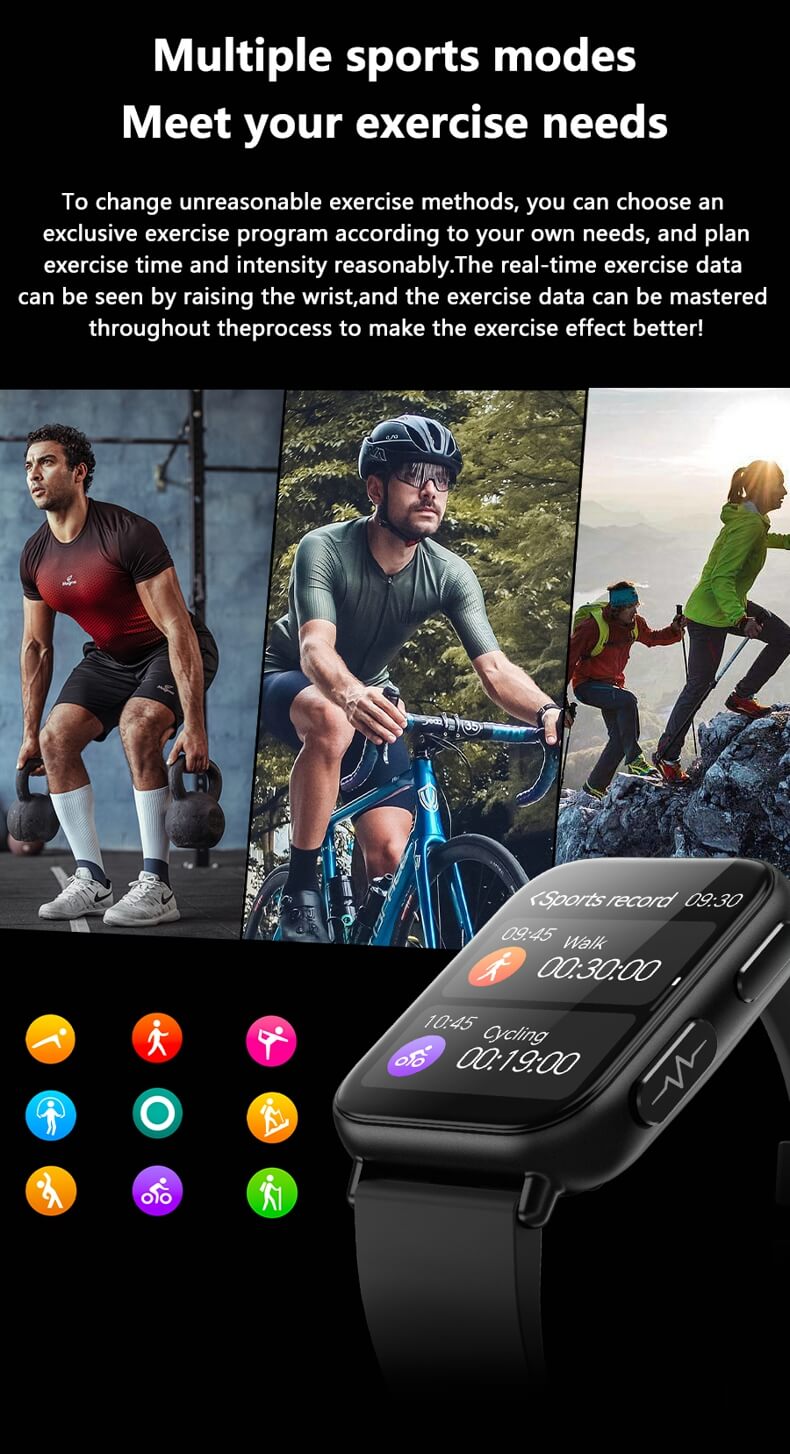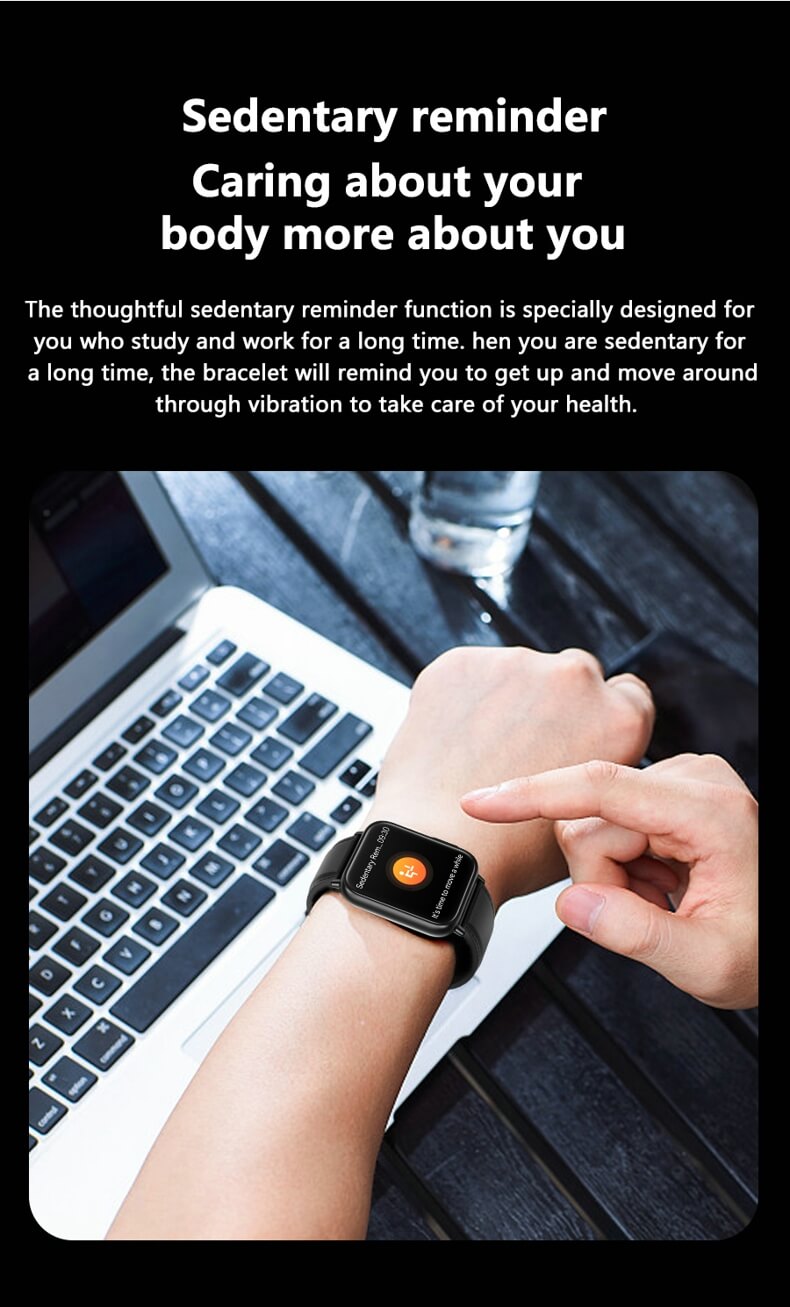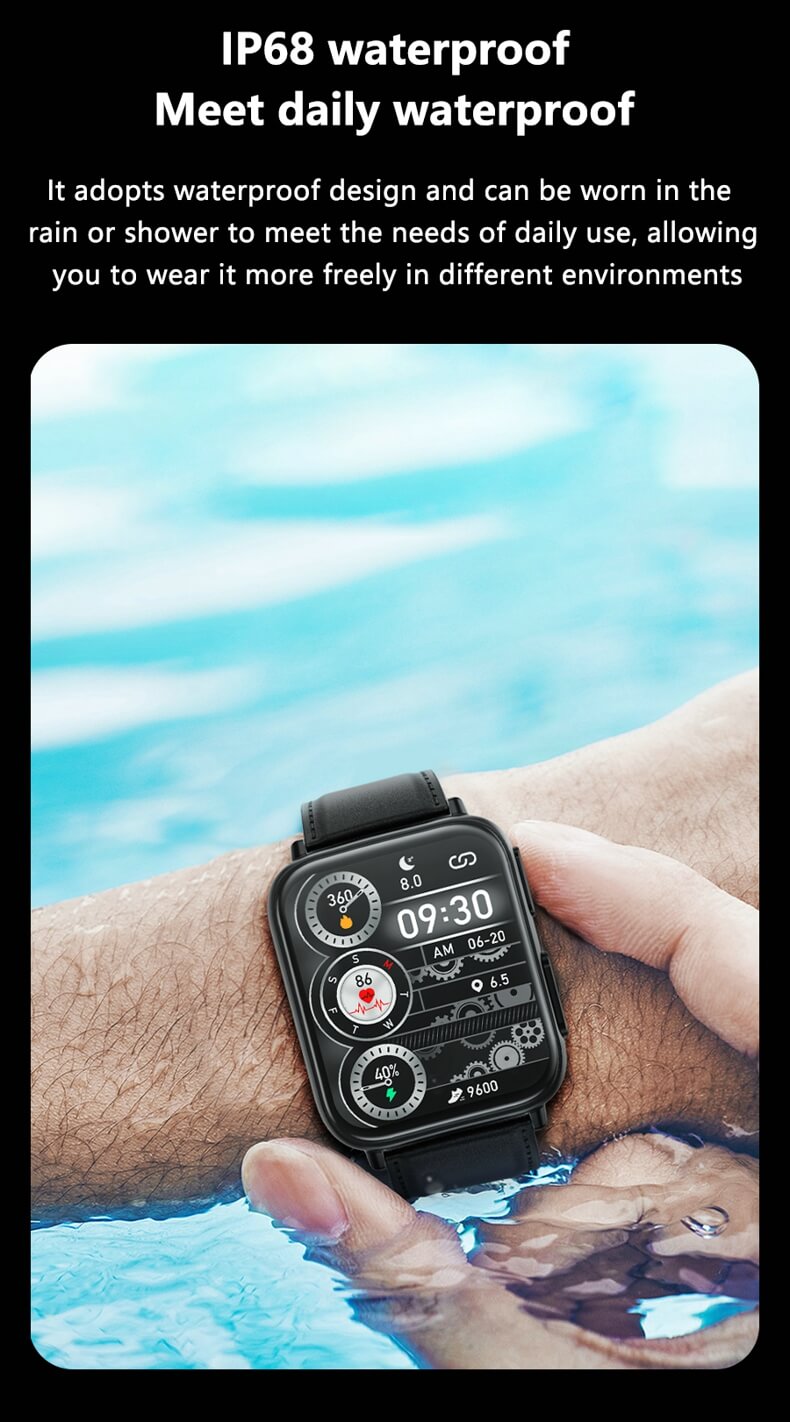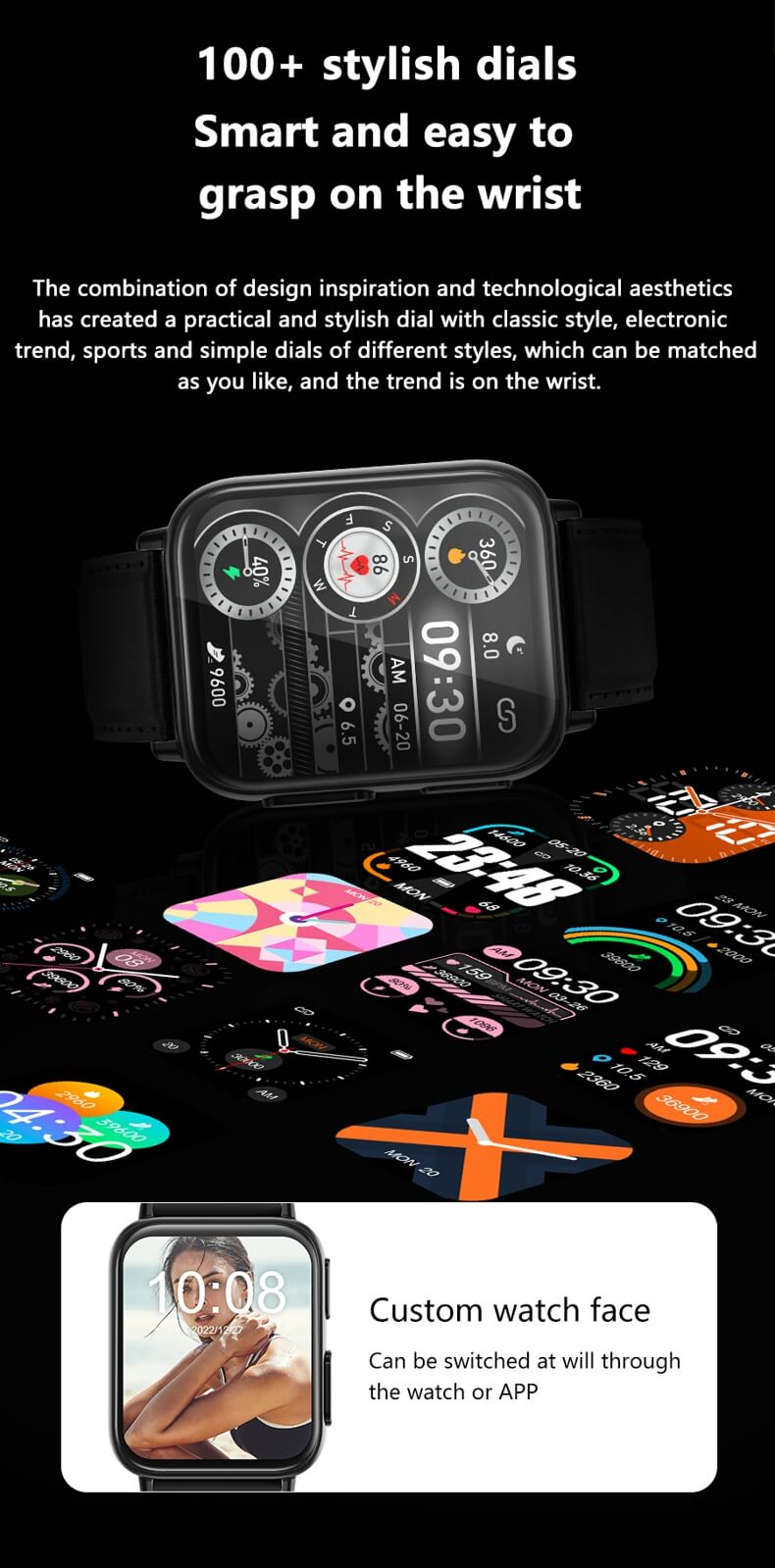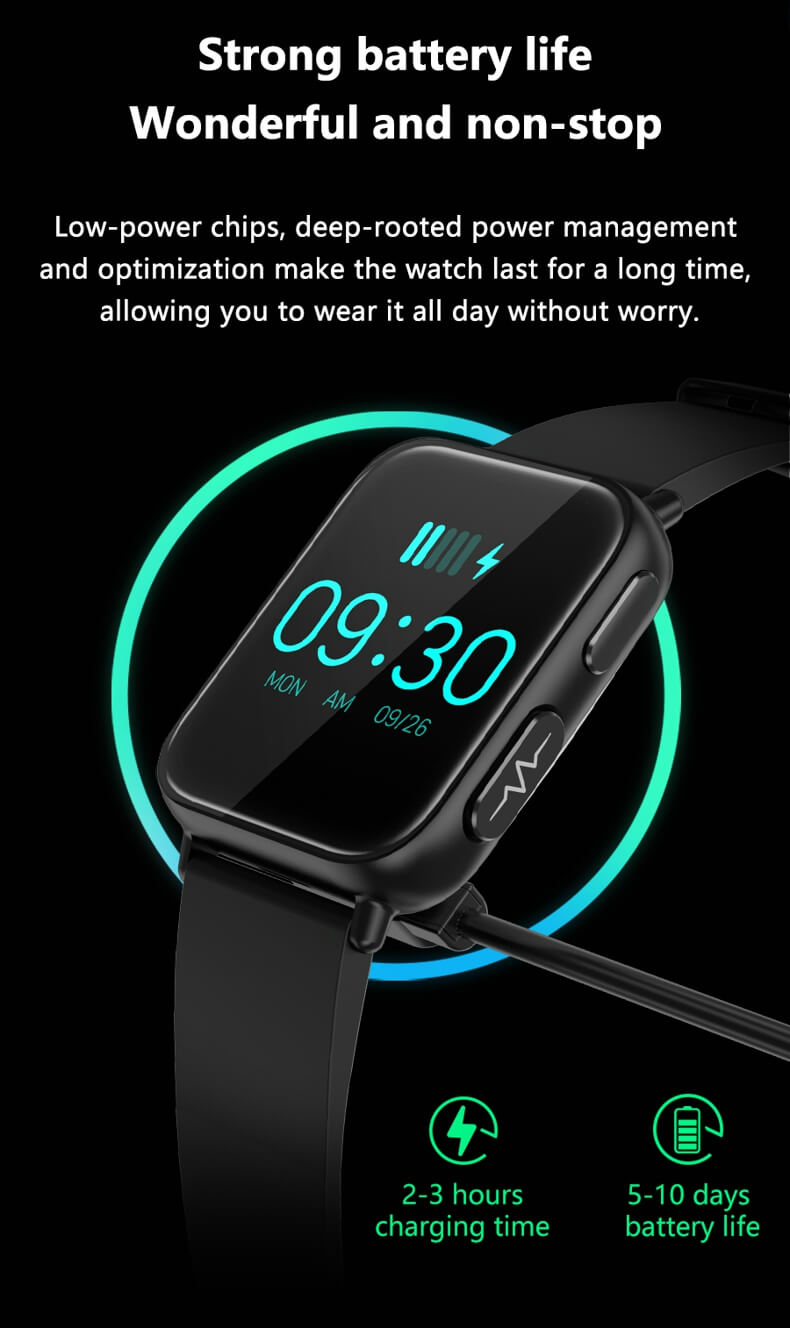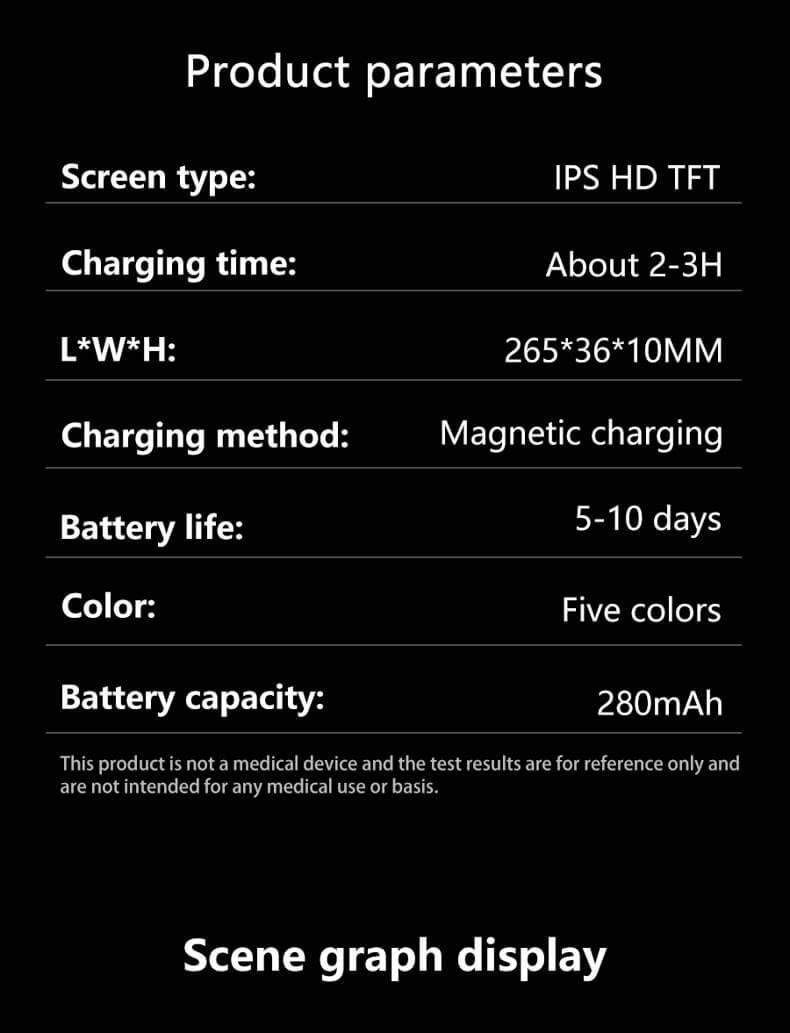 【HD Touch Screen & Personalized Dials】
1.91inch high-definition screen brings high-definition visual experience, adopts TFT screen, has excellent color saturation, restoration ability and higher contrast, etc., retina resolution, brings higher-definition visual experience, clear display spot the details. The fusion of design inspiration and technological aesthetics has created a practical and stylish dial with classic style, electronic trend, sports and simple dials of different styles, which can be matched as you like, and the trend is on the wrist.
【ECG Monitoring】
No need to wear a heart rate belt, it can be measured on the wrist, using intelligent pulse technology and hardware standards, through the principle of ECG measurement, using the heart bioelectrical signal for 30 seconds view ECG data.
【24/7 Real-time Heart Rate Monitoring】
The built-in optical heart rate sensor keeps an eye on your heart rate changes around the clock. UNM connects to the mobile app to check your heart rate changes at each time period, draw a heart rate curve, and present the beauty of your heartbeat.
【Blood Oxygen Monitoring】
Remind you to perform blood oxygen saturation detection according to altitude changes to protect your body's limit. Continuous monitoring of all signs, multi-faceted medical reports clearly display physical health status, support automatic monitoring.
【Blood Pressure Monitoring】
Adopt FITBLOOD blood pressure fine pulse algorithm, which greatly improves the accuracy of blood pressure measurement. Dynamically detect blood pressure data around the clock, get more realistic and effective blood pressure levels, screen potential risks, and issue early warnings in time.
【Body Temperature Monitoring】
When testing the body temperature, the bottom temperature must be in full contact with the skin (test after wearing for 10 minutes). The body temperature test will be affected by the temperature difference of the environment and only serves as a warning reminder. For details, please refer to the hospital equipment and doctor's diagnosis.
【Blood Glucose Monitoring】
Combined with optical signal processing and artificial intelligence technology, it can provide 24-hour continuous non-invasive blood sugar monitoring, easily understand the trend of blood sugar changes, adjust diet, exercise and other lifestyles according to the data, and better control blood sugar levels.
【Stress Monitoring】
Stress monitoring, always pay attention to your status, remind you to adjust your breathing, and relieve stress in time.
【Sleep Tracking】
All-weather sleep monitoring is refreshed and meets new challenges Supports all-weather sleep monitoring, deep sleep, light sleep, REM rapid eye movement at night, and sporadic naps during the day, all of which can be monitored and recorded.
【Track Daily Activity & 20 Sports Modes】
To change unreasonable exercise methods, you can choose an exclusive exercise program according to your own needs, and plan exercise time and intensity reasonably. The real-time exercise data can be seen by raising the wrist, and the exercise data can be mastered throughout the process to make the exercise effect better! According to the sports mode you choose, the sports interface will be displayed. Whether you are running, cycling or playing ball, you can open the matching sports mode to keep abreast of your sports situation and adjust your sports mode.
【Support IP67 Waterproof】
IP67 waterproof standard, effectively prevent sweat and raining, no more worry about water in daily use.(but after in cold water, wash your hands with spraying, please wipe off the water for keep device dry)
【Magnetic Charging & Long Battery Life】
Low-power chips, deep-rooted power management and optimization make the watch last for a long time, allowing you to wear it all day without worry. Equipped a convenient magnetic charging USB cable, 280mAh lithium polymer battery. It can ensure 4-7 days of normal usage and 30 days standby time without frequent charging. The watch gives you the freedom to go about your day without worrying about the battery running out.
【Smartwatch for Android and iOS Phones】
This Findtime Smartwatch is compatible with smart phones that use Android 4.4 & iOS 8.2 and above, not for PC or tablet, only for mobile phones with Bluetooth 5.0 and above.
APP:   DeepFit
Function:
– Exercise Record (step counter, distance, calorie calculation)
– ECG Monitoring
– Real-time Heart Rate Monitoring
– Blood Pressure Monitoring
– All Day Blood Oxygen Monitoring
– Body Temperature Monitoring
– Blood Glucose Monitoring
– Stress Monitoring
– Sleep Monitoring
– Alarm Clock
– Sports Mode
– Camera Control
– Music Control
– Weather Forecast
– Incoming Call
– Sedentary Reminder
– Message Reminder
– Find Phone
– Stopwatch
– Timer
Specification:
– Case Width: 36MM(1.42″)
– Suitable Wrist Diameter: 265MM(10.43″)
– Case Thickness: 10MM(0.39″)
Appearance material:
– Enclosure: metal alloy+stainless steel
– Bottom shell: PC+ABS+ medical 316 steel
– Strap: environmental protection TPU leather strap
What's in the box?
1 * Smartwatch
1 * Magnetic Charging USB Cable
1 * Luxury Watch Box
1 * English Instruction
Notes:
Please upgrade to the latest software version for a better experience when there is an update prompt on the APP.
The APP language automatically switches languages according to the system.
Smartwatch data can't use for medical purposes. The monitoring data is for reference only. If you need medical help, please contact a professional doctor.
For daily wear, wear the watch about one finger distance from the wrist bone, and adjust the tightness of the strap to a comfortable position.