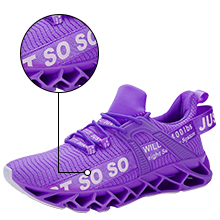 Just So So Symbol
"Just So So" Symbol make you more Stylish ,Cool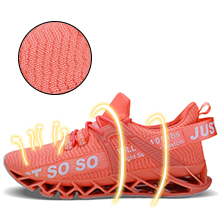 Breathable Mesh Upper
— Mesh material features lightweight and breathable
— Keep your feet dry and cool,bring the confortable feeling when you run or walk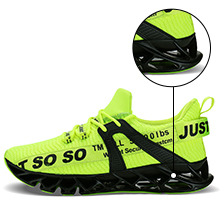 Blade Sole Design
— Providing stable support and optimal shock absorption for sports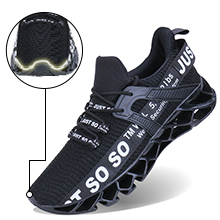 Keep Toes Safe
— Anti-kick design to protect your toes from hurt
— Breathable lining inside Comfortable and Dry lining provides the optimum cushioning performance
Fashion Knitted Mesh Upper: Ultra-light support and breathability maximizes the upper and let your foot always keeps dry and cool

Insole Honeycomb Hole Design: Keep your feet balanced, shock absorption and maximize ventilation

Blade Sneakers:The sole Is made of hollow carved technology , providing stable support and optimal shock absorption for sports

Fashion Blade Sole:Outsole clear texture,antiskid grip, with excellent bounce-back.

Fashion Unique Design Perfect Choice To Pair With Any Occasion: Casual, Walking, Running, Jogging, Training, Indoor, Sports, Outdoor, Travel, Exercise and Workout

Fashion Unique Design Perfect Choice To Pair With Any Occasion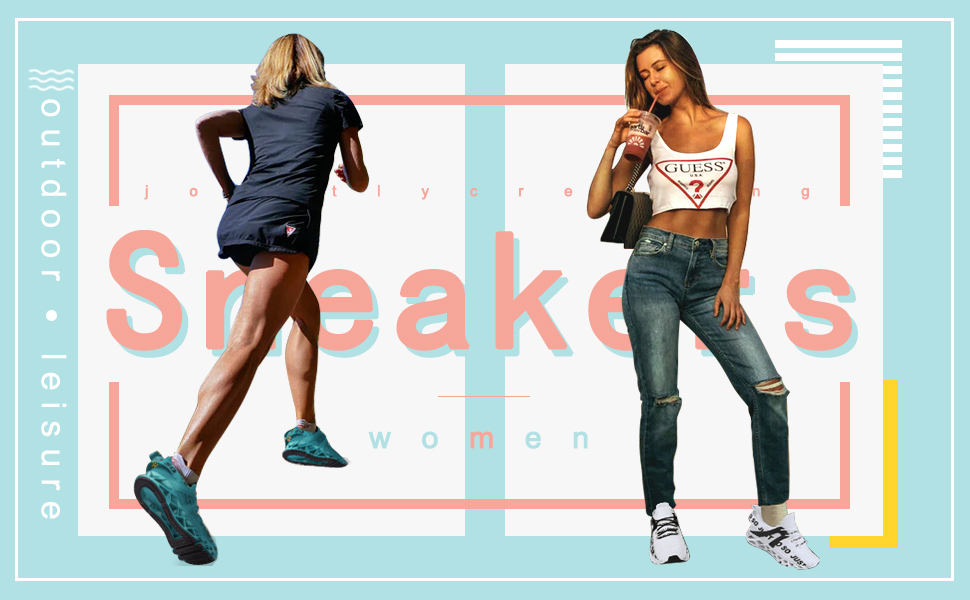 Upper Design:
Stretch Breathable Mesh Upper with Softness and Excellent Flexiblity
Breathing Insole:
The Interior of The Shoe Is Designed with A Honeycomb Hole To Absorb Sweat and Deodorize, Allowing Your Feet To Breathe Freely
Anti-Slip Rubber Sole:
Non-Slip Sole Give Your Full Support and Comfort for Your Feet,The Elastic Blade Soles Have High Flexibility Which Allows The Shoes To Bend Strongly While Doing Sports
Customer Service:
We Produce Every Pair Of Shoes Responsibly. We Trust That You Will Enjoy Our Shoes, If For Any Reason You Are Not Entirely Satisfied, Please Contact Us?([email protected])
Customer Questions & Answers
Question:Are these true to size or do i have to go up a size ??
Answer:?they are true to size. I normally wear a nine in my shoes. I ordered a nine and they fit nice and snugged. But they do stretch a little in width ( I have wide feet). They are worth Evey penny. They are comfortable!!!!
Question:How are these shoes for high arches? Is this a good running shoe?
Answer:I have plantars facititus so I have to use special inserts but they have built in arch support already so they are great for high arches. Yes, I believe they are good running shoes because the blade design takes more of the heel impact than your feet normally would.
Question:Are they slip on or tie shoe?
Answer:They do have a tie shoe lace but once they are tied to your preference, you can just slip the shoe on and off. No need to keep re-tying.
Question:I walk 10 plus miles a day on concrete for my job. Would these hold up to that kind of stress?
Answer:I¡¯m a nurse and I¡¯m n them for 12 hrs a day I bought my first pair in January and they lasted this long