Heating Shoulder Brace Compression with Vibration 

Conventionally unhealthy lifestyles generally led to body pain, muscle injuries, joint pains, and other physical ailments. The Shoulder support strap is specifically designed to overcome these issues effectively.
Get Support and Speed up the Recovery – Support to an injured limb speeds up the healing by providing the required support and allowing rest to the injured muscles. Shoulder braces snugly fit the body and provide comfort.
Increased Sense of Receptors – Researches have shown that compression of the shoulder assists in sending receptors to the brain about the position of the shoulder. This awareness helps in getting knowledge of arm-position and force required through better coordination.
Strengthen The Muscles – Shoulder straps generally have Neoprene material that puts resistance to shoulder movement. This resistance led muscles to work harder for movements, thus resulting in muscle strengthening.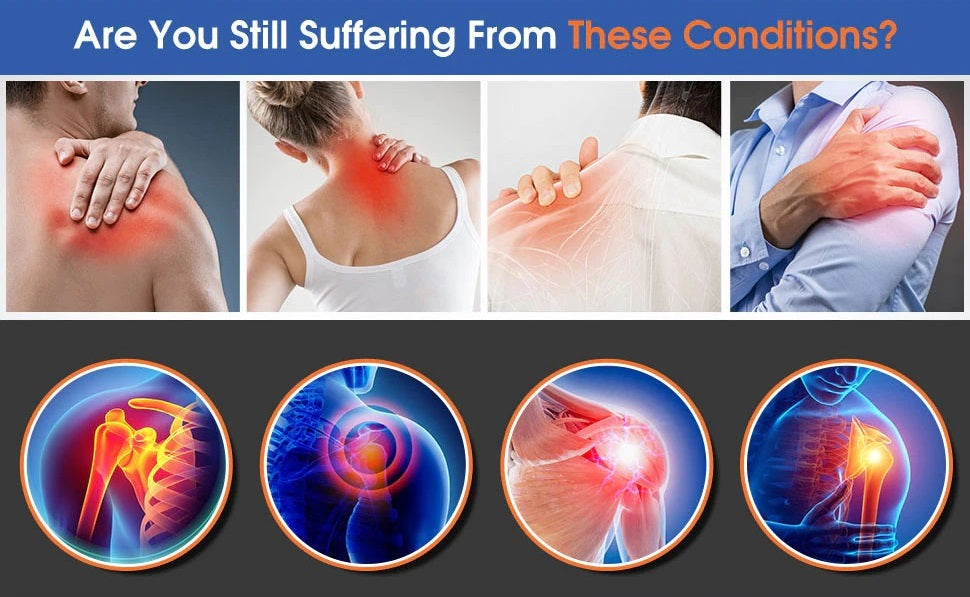 Why Choose Shoulder Brace ?
You suffer with frozen shoulder, muscle injury, arthritis, rheumatic pain or shoulder dislocation. 
You play sports with maximum shoulder movement like Basketball, Badminton, Tennis, Table tennis.
You have swollen joints or inflammation in muscles.
You are an athlete or perform activities like running and riding a bicycle.
Features
Heat Therapy, Magnetic therapy and Vibration Massage together work to promote comprehensive rehabilitation.
Shoulder Pain Relief – Built-in heat therapy pad can warm your shoulder and promote blood circulation, then relieve pain caused by the frozen shoulder, torn rotator cuff, dislocated AC joint, sprain, bursitis, tendonitis, paralysis, strain, stiffness, soreness.
Fits either Left and Right Shoulder
Comfortable vibration massage ease joint pain, muscle stiffness and joint swelling.

Rechargeable lithium-ion battery makes for complete portability, can provide on-the-go relief.
Auto programme for 10-minute, 15-minute, 20-minute.
Elastic neoprene material and adjustable straps fit different arms and maximise comfort on the skin.
USB recharge, charge 1 time, it can be used up to 75 minutes.
Intelligent control panel design, easy to use.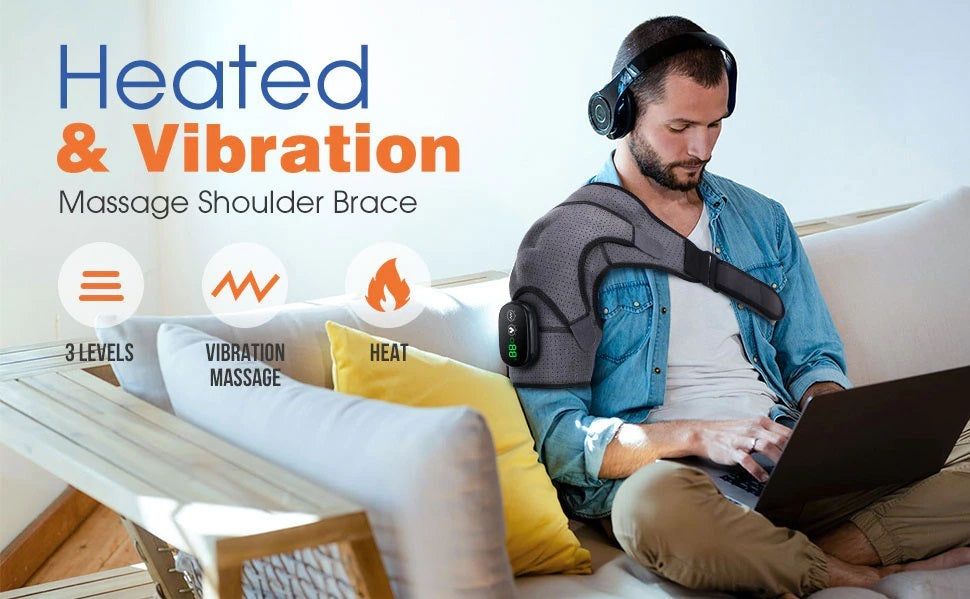 Benefits
1. Relieve knee rheumatic arthritis
2. Accelerate muscle recovery
3. Alleviate muscle pain
4. Increase flexibility
5. Improve circulation
6. Promote better sleep
Specification
Rated voltage: 110v-240v
Power: 12W
Battery Capacity: 5000mA
Heating temperature: 45-60 degrees
Material fabric: Breathable Neoprene 
LED display: three gear intelligent timing and temperature indicator.
How To Wear:
1. Connect the strap to the buckle that is on the brace.
2. Once strap is in place, put the brace on your shoulder.
3. Pull the long strap from under other arm, put it through the buckle, and now pull it from the other side of the buckle.
4. Secure the Hook&Loop and make sure to have a firm and secure fit.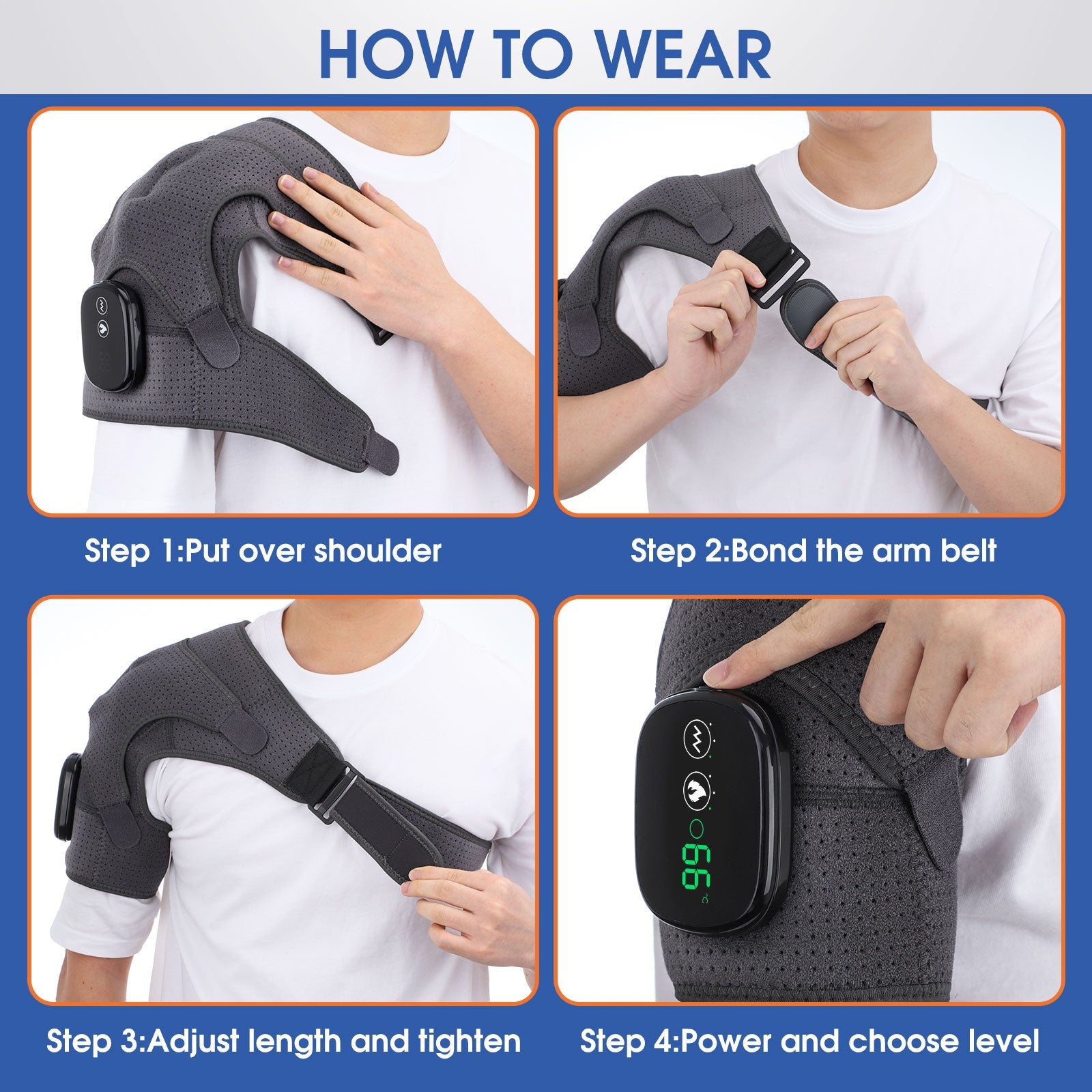 Note:
1. The shoulder brace can also be used as a compression shoulder brace.
2. Please do not wear it at high temperature for more than 5 minutes to avoid burns.
3. Please pay attention to controlling the temperature range for needs. It's NOT recommended to use the highest for a long time. 
4. Shoulder braces are just helpful aids, not treatment nor cure method.
5. It's recommended to wear the shoulder brace above a T-shirt or cloth to avoid to avoid burns. Skin redness is normal for heat therapy
6. NOT for Pregnant women, kids.
7. The adapter should avoid contact with water during operation. It should be used in a completely dry condition