PRODUCT DETAILS:
Category: Women's Shoes > Sneaker

Style:Casual,Athletic

Silhouette Style: Flats

Closure Style:Lace up

Pattern:Solid

Material: Mesh,Rubber

Features:Fashion,Platform,work/safety,Wide Width

Occasion: Workout, exercising, tennis, walking, daily work, dog walking, shopping, traveling and so forth.
SPECIAL FEATURES:
Super lightweight and flexible just like socks, breathable fabric provide great freedom and a comfortable feeling. Let you enjoy every minute of walking during the day.

Perforated arch for ventilation and breathability. Classic cushion design makes these shoes are perfect work shoes for those who need to stand or walk for a long time.

These shoes are flexible and suitable for any usage, ranging from: workout, exercising, tennis, running, walking, daily work, dog walking, shopping, travelling and so forth.
Walking without foot and back pain?
Our feet are our only support when we walk. The shape of our feet and the way we walk have a great impact on different parts of our body. Therefore, it is crucial to take care of our feet by choosing the best support for a good posture.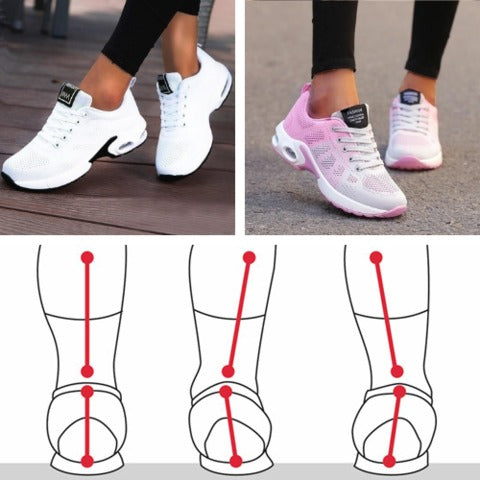 Shoes for the whole year
Corrects posture. Reduces pain in the toes.
Good arch support.
Easy to put on and take off.
Anti-slip. The rubber sole provides a good grip on the ground and more safety.
Breathable and lightweight. Our specialists have selected the ideal materials to ensure all-day comfort.